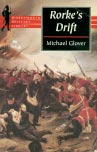 I am no expert on the subject and like many people first encountered these events of the Zulu War with the film, ZULU. I re-read the book, "Rorkes Drift" by Michael Glover (Wordsworth Military Library) after spending a couple of hours on the rorkesdriftvc.com website. The book is quite brief and I read it in a relatively short time. The political context is outlined clearly in the early chapters. The events at Isandlwana are recounted as well as the actual battle of Rorkes Drift. I felt had a clear picture of the events as they unfolded and much seemed to accord with what I had seen on the website. The style was clear and readable. The illustrations were useful especially the diagram of the defences, to which I could refer while reading the account.
I bought the book from The Works for about £3 so I felt it was excellent value for money.
Overall, from the perspective of a non-expert I found the book very helpful.
Laurence Fletcher Wolverhampton England.