How New Zealand Claimed One of England's Sons.
Once the smoke has cleared and the sounds of gunfire dies away, the dead are left to be counted, mourned and hopefully buried. There are artists' depictions of the final stand of Lieutenants Melvill and Coghill as they fought to defend the Queen's Colours after the battle of Isandlwana and there is a memorial to their memory on the bank of the Buffalo River. And that's where the story ends. When we write the final lines of the story, we no longer think beyond that event and give no thought to those left behind by the tragedy and what their lives were like without this significant person in their lives.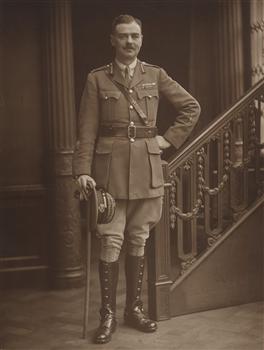 Brigadier General Charles William Melvill, CB, CMG, DSO
At the time of his death, Lieutenant Melvill was married with two young sons, the youngest of whom, Charles, went on to become General Officer Commanding of the New Zealand Forces between 1924 and 1925. Because of my interest in the Anglo-Zulu War and as I now live in New Zealand I wanted to follow the link between the two.
Charles William Melvill was born on 5 September 1878 in St Winnow, Cornwall, the second son of Lieutenant Melvill who had returned to England from South Africa in January 1878 after passing the examination for Staff College in England. However he re- joined his battalion a month later when hostiles broke out in the Cape Colony.
Charles's mother was Sarah Elizabeth Melvill nee Reed, born in Port Elizabeth, Cape Colony on 18 May 1855. Her father, George Thomas Reed, was one of the original 1820 settlers. Lt Melvill and Sarah were married in February 1876 and Charles's older brother, Teignmouth Philip Melvill, was born in Cape Town on 13 February 1877.
Having accompanied Lieutenant Melvill to England Sarah remained there after his return to South Africa, now pregnant with their second child, Charles. At the time of Lieutenant Teignmouth's death at Isandlwana Charles was only 5 months old and his father had probably not returned to England since his departure in February 1878.
The probate listing puts Lieutenant Melvill's 'personal estate under 600 pounds', hardly enough to support a wife and two sons for the rest of their lives but Sarah was awarded a civil pension of 100 pounds a year by the Earl of Beaconsfield in 1879 "In recognition of the heroic conduct of her late husband Lieutenant Teignmouth Melvill in saving the colours of the 24th Regiment on the field of Isandlana.
This was probably of little comfort to the young wife and mother, just 24 years old with two sons under the age of 3 and it is significant that in the census of 1881 she is living with her parents-in-law at Ethy House in St Winnow, Cornwall along with her sister-in-law Elizabeth and 10 servants.
The 1891 census finds Sarah living in Holdenhurst, Bournemouth with her sister- in-law Elizabeth, both 'living on own means' with Teignmouth (14) and Charles now 12. Elizabeth, Lieutenant Melvill's sister, is listed as being the head of the household which would have been an unusual state of affairs in that day but she appears to have never married and in 1891 was 46 years of age. It is probable that the sisters-in law became close and Elizabeth took up some of the responsibility of raising the two boys in what was by now a female-dominated household with 3 servants - parlour maid, cook and housemaid.
The 1901 census finds only Charles present in the Melvill household, now listed as lieutenant for he enlisted in the South Lancashire Regiment in 1897 at the age of 19. His brother Teignmouth had enlisted in his late father's regiment and later transferred to the 17th Lancers, being in the Cape Town army barracks for the 1911 census.
Charles fought in South Africa with the South Lancashire regiment during the Anglo-Boer War and afterwards in India, and left the service in 1906 with the rank of captain. The following year he immigrated to New Zealand to take up farming in Otago but he also enlisted in the New Zealand Forces between 1911 and 1912. On 7 June 1911 he married Margaret Eliza Burnett at St Paul's Cathedral in Dunedin, Otago. When war was declared in 1914, he re-enlisted in the South Lancashire Regiment but he was wounded in France in September 1914 only a month after arriving. He was not to see further action until he was appointed general staff officer to the New Zealand Expeditionary Force at Gallipoli in September 1915, no doubt the War Office making use of his knowledge of the colonials currently in that theatre. From there he was appointed brigade-major of the NZ Mounted Brigade, then given command of the 4th Battalion NZ Rifle Brigade and went with it to the Western Front where he awarded the majority of his medals, including the Croix de Guerre and was mentioned in dispatches four times. Most of the citations are available on-line and paint a picture of a confident and brave commander. In June 1917 he was promoted to Brigadier-General in command of the NZ Infantry Brigade, a position he served until the end of the war. And thus New Zealand claimed one of England's sons for its own.
On return to New Zealand he took the rank of colonel and in April 1925 was appointed General Officer Commanding the NZ Forces. His father would have been proud, unfortunately, like his father, Charles died young at the age of 47 on 15 September 1925.
His cause of death was a mystery until I engaged the help of the volunteer staff at The Armoury Information Centre at the Auckland War Memorial Museum. The cause was eventually sourced from the newspaper Auckland Star of 16 September 1925.
Charles underwent a minor operation a week previous to his death to remove a growth in his nose and the day after he was discharged he complained of a headache and collapsed the following day, unconscious. He was taken to hospital where he was diagnosed with meningitis and he never regained consciousness before he died. He was survived by his widow Margaret and he is buried at Karori Cemetery in Wellington, New Zealand.
In a postscript to this tragic tale of the early death of a military man with much promise is that between 4 January 1936 and 24 April 1837 Teignmouth Melvill and his mother Sarah (now 81 years old) sailed to South Africa where they met up with Charles's wife Margaret who accompanied them back to England. It is possible that they may have visited the memorial to Lieutenant Melvill on the banks of the Buffalo River while in South Africa but I could find no reference to it. If they did, I would imagine it would have been a private and sombre occasion.
Sarah Melvill died on 14 January 1943 in Johannesburg while Teignmouth Melvill died in Kings Lynn, Norfolk on 12 October 1951. Margaret Melvill died in 1962 in Palmerston North, New Zealand.
Dawn Grant, 2014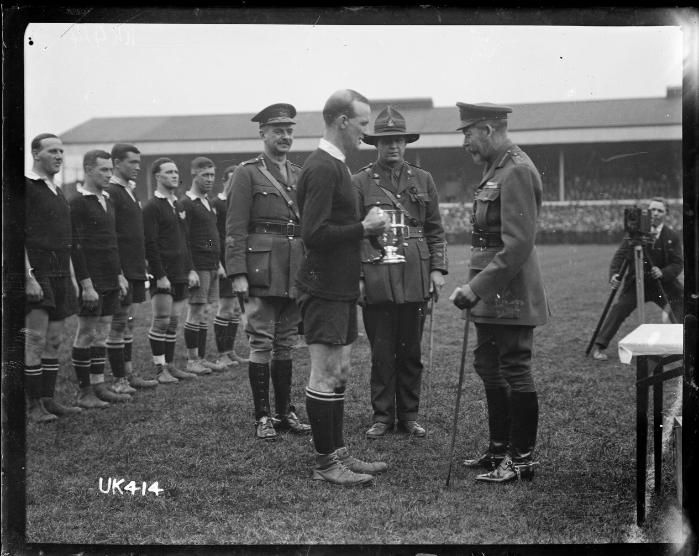 King George V presents a cup to the captain of the winning New Zealand Services Rugby Team, London.
Charles Melvill is on the left behind the team captain