William Jones: Ancestral links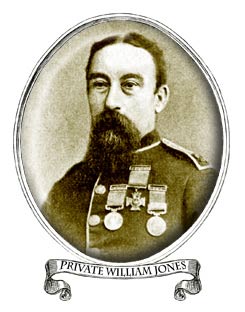 593 Private William Jones VC.
Once, around the early 1800's, there was a family called Jones, whose members lived in the Llandecford, Abersychan and Trevethin areas of Monmouthshire, a county of South-East Wales . The members of the Jones family were employed in a variety of trades that included construction, iron foundry, but most notably, shoe-making. Many of the Jones family were employed in a boot factory that was located in the town of Abersychan , and the skills that these individuals learnt would be passed down
in some instances, to various family members. The name Jones can be dated back to the 11th Century and has connections with Welsh Royalty and Nobility. There have been many stars to emerge from the various branches of this particular Jones extended family, but there was one star that would be born, whose light shone in brighter magnitude than the rest, who still shines today and whose light will shine forever. His name is 593 Private William Jones VC, of 'B' Company 2nd/24th Regiment of Foot, and this is his story.
593 Private William Jones VC, as he would be later called, was born on 16th August 1839,at 5 Lucas Street, Castle Precincts, Bristol, the child of stonemason-builder's labourer, William Jones Snr, whose wife was called Mary Ann Jones, late Martin, formerly Lancastle. Charles Attwood, The Registrar at the Castle Precincts Sub-Registration Office, registered William's birth on The 17th August 1839. Minister Joseph Wilkinson, later baptized William on 22nd March 1840,with his 7-week old brother James Jones, at the Wesleyan Methodist Chapel in Coleford, Forest of Dean , Gloucestershire. William and James's mother and father were both present at the baptism. It is thought that William and James's father, William Jones Snr, was born in Wales , and crossed the River Severn to seek out more lucrative work opportunities; the Jones family would move much over the course of time, due to the growth of industry brought about by the birth of the industrial revolution.
Subsequent census returns, as noted later, would see 593 Pte William Jones list his birth place as Bristol, Gloucestershire, but the family may have moved to Evesham, Worcestershire, at some stage, possibly around the early-to-mid 1840's.There are records, still in existence at Evesham, of a family of shoemakers, called Jones, that lived in Cowell Street, in the centre of the town, around this period; 593 Pte William Jones served his apprenticeship as a shoemaker before he enlisted in The Army. There are also accounts that William and James Jones had a half-brother called Thomas James Jones, born earlier in Wales to a possible first wife, whose name is unknown, of William Jones Snr. The child may have remained in Wales and have been brought up by relatives, as the mother is believed to have died when Thomas was a young child. The descendants of Thomas James Jones are still residents of Wales to this very day and the family members of this branch of the Jones family have been fully accounted for and documented.
The details of 593 Pte William Jones's enlistment into The Army, and early service life have been well-documented, and our first point of interest in this story, is his marriage to his first wife, Elizabeth Goddard, in 1875.Elizabeth was then 21 years of age, the daughter of Farnham Bricklayer, Charles Goddard and his wife Harriet. The family resided at 69 Hale, St John , Farnham, Surrey at the time of the marriage. Elizabeth had 1 elder brother, George, born in 1853, 1 younger brother, Henry, born in 1858 and 6 younger sisters, Alice aged 13, Mary aged 12, Fanny aged 11, Hannah aged 10, Harriet aged 7 and Ellen aged 2. William and Elizabeth were married on 25th July 1875 and the marriage certificate shows that 593 Pte William Jones's father, William Jones Snr, is now quoted as deceased; William Jones Snr, was thought to have died at some time prior to 1867.The marriage took place at The Wesleyan Methodist Church, Farnham, Aldershot, Surrey. The witnesses on this occasion were Thomas Wells and Annie Gabriel; The Registrar was Richard Watson-Allen of Hunter's Registrars. Charles Goddard is listed as 'Taylor' on the marriage certificate, and this quoted occupation is contradictory to the means of employment listed by Charles himself via subsequent census returns, which show him employed, for every census return, as a 'Bricklayer'.
1.
The 2nd/24th were present at 'The Citadel', Western Heights , Hougham, Dover , Kent around the later part of the year 1876,then briefly at Chatham , Kent , before they departed for South Africa .593 Pte William Jones and his young wife, Elizabeth Jones, arrived in South Africa with the 2nd/24th,and after some time there, Elizabeth became seriously ill and died. The Durban Death Register, volume 05/01/1868 - 30/12/1881 (no index available), shows death entry number 129,date-of-death 11th October 1878,for one Elizabeth Jones, female, aged 24 years, wife of William Jones, cause of death: Phthisis-Pulmonaris; John Wade, undertaker, Durban; death registered 11th October 1878,certified by CB Jennings, surgeon, AM department. The cause of death of Elizabeth Jones raises a point of interest in regards to the alleged birth of a child to the Jones couple in South Africa, and, her cause of death.'Phithisis' is a Greek word for 'wasting away' and is a lung-complaint suffered by people who
have been exposed to dust. Elizabeth Jones may have been born, or lived in an industrial area where the air was polluted, or lived near a mine, or an industrial workers house, where there was a build up of dust or grime.
The term 'Phthisis' is used to denote TB, or any chronic wasting disease of the lungs; in the case of miners, who were common sufferers of this illness, the word 'Phthisis' is pre-fixed by the use of the word 'miners'. We will now examine the alleged reports, that have filtered down the decades, that Elizabeth Jones died whilst she gave birth to a son. The Durban Birth Registers, volume 14/11/1877 - 20/06/1882 (no index available) shows only one 'Jones' birth during the entire period, namely, 26th December 1878.The child's parents in this case were John Thomas Jones, occupation: Boatman; mother, Elizabeth Jane Cooper, clearly not our couple on this occassion. No other 'Jones' entries can be found, neither any birth related to the surname 'Goddard' in the Durban Birth Registers. The emergence,
therefore, of the cause of death of Elizabeth Jones, nee Goddard, completely unrelated to childbirth is an indication that 'no' child was born to 593 Pte William Jones and his wife, Elizabeth, at 'any time whatsoever', during their stay in South Africa .
We know that 593 had been with his regiment until his wife had become seriously ill, and that his time had been taken up with the pursuit to earn more money, shoe-repair, to provide for his sick wife. Survival was the priority, not newspaper reports and announcements. The couple were temporarily resident in Natal and it was doubtful whether Elizabeth 's death would have made the newspapers. A
check of the Natal Mercury Newspaper in South Africa for some weeks that followed the date of Elizabeth 's death, show no announcements of such a death. Regretably, the first half of the 1879 Natal Mercurys are not obtainable from the Natal Societies Library Collection, but the second half of that year's editions are bound into one volume. The Killie Campbell Library, in Durban , holds the editions of the Natal Mercury for 1879 on microfilm, and this is where the required text of the report of the death of Elizabeth Jones can be found (see separate page). A good amount of detail of the death is included in the article, and the report in the Natal Mercury is written with some sentimentality about a VC Hero of Rorke's Drift, and his personal tradegy, yet there is no mention whatsoever, about a child, in what amounts to an otherwise detailed report.A journalist who would have wrote around this period, would have exhibited a typical 'Victorian Dowdiness' in their style of written work, and would have found it extremely hard to resist the temptation to include the birth and survival of a motherless child 'left' in Durban , in their written account. Such an inclusion would have added much to the 'Pathos' of William and Elizabeth's situation.
This omission is a telling point. It is doubtful that 'any' reporter would have been unaware of this fact, the plight of a motherless child. These circumstances also scotch completely, alledged reports that a child born in South Africa was 'sent to relatives in Wales after his birth in South Africa '. Firstly, a child under a certain age would have been too young to travel, and also raises the question of who cared for the child when 593 rejoined his regiment, which was immediately after he had buried the remains of his wife. Then again, who indeed, made the travel arrangements for the child to return to Wales ? Travel records from around this period are non-existent so there are no means of validation available to confirm the child's return to the UK .
2.
The burial of Elizabeth Jones clearly took place in Durban . The burial registers for West Street Cemetery , in Durban , commenced there as early as 1878,and these records point to this location as the natural place where Elizabeth Jones should have been buried. A printed index to West Street, that has been consulted, shows no suitable entry, and a double check of the original registers, still held at West Street, again, shows no burial record of any Elizabeth Joneses at all, after the death date of October 11th 1878.Although West Street Cemetery does have a Wesleyan Methodist section, Elizabeth Jones, is not listed as buried there. An alternative location for Elizabeth 's burial place would be in a separate Wesleyan churchyard, possibly the old West Street Methodist church, which opened as early as 1850, or less likely, the chapel on the Berea Estate, from around the same date. Methodist records are held by the Cory Library, in Grahamstown, but enquiries made there show no record whatsoever of Elizabeth Jones's burial place. Needless to say, after extensive and exhaustive enquiries, nobody knows just where Elizabeth Jones's remains are buried. May her remains and soul rest in peace, in the hope that one day, she may be located.
Although we don't know the location of Elizabeth Jones's burial place, we will now deal with the topic of the alleged reports that a son was born to 593 Pte William Jones and his wife Elizabeth Jones, nee Goddard. William Jones, who we shall now refer to as 593 junior, was born to 593 Pte William Jones and his wife Elizabeth on the 18th November 1876,at Western Heights , Hougham, Dover , County of Kent . The details of the birth are as follows: Name of father- William Jones; Name and maiden name of mother-Elizabeth Jones, formerly Goddard; Occupation of father-Private 24th Regiment; Signature, description and residence of informant-Wm (as written) Jones, father, Western Heights , Hougham; when registered-9th December 1876.The name of the registrar is unreadable.
When 593 Pte William Jones and his wife Elizabeth departed for South Africa, their son William, 593 jnr, was left in the care of his grandparents, Elizabeth's mother and father, Charles and Harriet Goddard, at the previously mentioned address of 69 Hale, St John, Farnham, Surrey.593 jnr would remain in the care of his grandparents for some time, at least up until he was 15 years of age. There are accounts of several of the wives of the soldiers of the 2nd/24th that were present in Durban around the time of the battles of Isandlwana and Rorke's Drift. Maybe the opportunity of a chance to accompany her husband in South Africa prompted Elizabeth to depart for South Africa or maybe she had already contracted TB in England and had been advised to go to South Africa with her husband to benefit from the cleaner air present in Natal , as part of the process to cure her condition. What Elizabeth Jones wouldn't have known was that she was fated to die whilst she stayed with her husband. Just how long Mrs.Jones intended to stay in South Africa , before she returned to England to care for her young son is a point of debate. Elizabeth Jones would also not have know that on her departure for South Africa she would never see her infant son again.
Whilst the actions of 593 Pte William Jones at Rorke's Drift are legendary, and his return to England and subsequent award of the Victoria Cross well documented. We will now take a look at William Jones VC's post-service life, the whereabouts of his son 593 junior, and question why the child was left in the care of his grandparents, in Surrey, for no apparent reason, and determine if any contact at all, was ever made, between father and son, once William Jones VC had returned to the I.E. will also now consider the places that the now 'civvy street' William Jones VC lived and some of the circumstances that he would face in his mid-to-later life.
3.
It has been quoted that William Jones VC's intended place of residence after his discharge from the Army was 174 Lupin Street, an address that we shall refer back to later, but the first official documentation of the whereabouts of William Jones VC can be studied via the census returns for the year 1881,which was compiled on the 3rd April of that year. Public records reference number RG11, piece 3029,folio 60,page 29,shows members of the household of the couple Charles and Elizabeth Frodsham, who lived at Court 3,Love Lane, Aston, Warwick as follows: Charles Frodsham-head, aged 37,birthplace-Sheffield, Yorkshire, occupation-Awl blade maker (NB an 'Awl' is small pointed tool used to pierce holes, especially in leather); Elizabeth Frodsham, nee Walters-wife, aged 31,birthplace-Bristol. The children of Charles and Elizabeth present at the above-mentioned address were: Louisa aged 11;Rose (born Rosina), aged 6;Lily aged 4 and James Frodsham aged 1.
On the surface, this would seem all well and normal, and the less experienced family researcher may be content to leave matters satisfied. A genealogist of a more curious nature would want to see 'who the neighbours were' to ascertain if there were any relatives of this couple who also lived in the vicinity. If a search is conducted on the LDS website 'family search' and the Frodshams located, the facilities 'next' and 'previous' household are afforded the researcher to 'take a look around the neighbourhood'. In this instance we will press 'previous household' and we discover the now civilian 'William Jones', listed at the same address as a 'visitor', marital status-widowed, aged 49(this is incorrect if we refer back to 593's birth certificate), birthplace-Bristol; occupation-Warehouseman. This indeed is our now ex-Army William Jones VC, tagged on as an addition to the individuals present in the Frodsham household on census night. The same arrangement of details also applies to the original fiche images of the census returns for that year, via the official Government records; the images for William Jones and the Frodsham family members are spread over 2 pages.
Why did William Jones VC choose Aston, Warwickshire as his place of residence on census night, was this a 'visit' and had he arrived from Farnham or Bristol to visit family friends. We now refer back to the alleged accounts that William Jones's intended place of residence after his discharge was 174 Lupin Street . The birth certificates of the following children born to Charles and Elizabeth Frodsham list a variety of addresses in Lupin Street over the years: Rosina Frodsham, born back 136 Lupin Street , 1874;Lily Frodsham, born back 147 Lupin Street , 1877;James Frodsham, born 20 Court Lupin Street , 1879,all details read as they appear on these individuals birth certificates. It can be debated whether William Jones VC stopped off at Bristol , or Farnham to visit his son William, 593 jnr, but on the above evidence it seems he made his way directly to the midlands. A visit to his son can never be confirmed or denied but there are some clues as to why he was present in the Frodsham household on census night 1881.
Two possible reasons why William Jones VC ended up in Aston were that William's younger brother, James Jones was also now a resident of Aston, employed in industry, along with Charles Frodsham's younger brother Thomas Frodsham, brass dresser-worker, who worked in a brass works in Duddeston. James Jones, due to his large household, may have been unable to provide permanent accommodation for his elder brother and the now homeless William Jones VC, a plight many faced on discharge from the Army around this period, was referred to a work college through James Jones to Thomas Frodsham and eventually to Charles and Elizabeth Frodsham.The Joneses and Frodsham's may have known each other already, either through work, or a previous common association through Bristol. Charles and Elizabeth Frodsham, with a large family to feed may have welcomed the extra money that a lodger would provide.
4.
The architecture of the houses in Love lane, around the time of the 1881 census would suggest that some form of annexe or outhouse may have been present at the back of this type of property, and this arrangement would have been ideal for the accommodation of a lodger. An additional room would have been the perfect place for William Jones VC to lodge, to lead his life separately from the rest of the Frodsham household, able to come and go as he pleased. Meanwhile, down in Farnham, at this time, the 1881 census (RG11/0788/13/20) shows the now 4 year-old William Jones, 593 jnr, born Dover, Kent, as depicted on this child's entry, resident with his grandparents, Charles and Harriet Goddard, complete with a selection of his aunts, Alice aged 19,who was employed as a servant, Harriet aged 13,and Ellen Goddard aged 9,all except 593 jnr, born Farnham, Surrey.The Goddards and young William, on this occasion are residents of 'Cottage', Farnham, Surrey,as listed on this census return.
The developments in the Frodsham household, shortly after the 1881 census see an increase in the number of children born to Charles and Elizabeth Frodsham with the birth of Albert Ulundi Frodsham, born 12th May 1881,at number 4 Court, Love Lane, Duddeston, Aston, County of Warwick.
The birth is registered by Albert's mother, Elizabeth Frodsham, as were all the Frodsham children's births. The father of Albert Ulundi Frodsham is listed as Charles Frodsham, who is still employed as an 'Awl Blade Maker', and the birth was registered on 20th June 1881,registrar's name is Fred Fowler. The final child to the Frodsham couple, a girl, called Elizabeth Frodsham was born on 19th June 1883 at number 7 Holt Street , Duddeston, Aston, with Mr Fowler, once again the registrar of the birth.
It seems that there were no attempts on either William Jones VC's or the Goddard's part to reconcile William Jones, 593 jnr, with his father as the 1891 census returns finds William Jones VC, still listed as a resident of the Frodsham household, his status has now changed from 'visitor' to that of 'boarder' (RG12/2421/15/13), aged 52-correctly noted on this occassion, occupation-general labourer; William Jones VC still quotes his birthplace as Bristol, Gloucestershire.The Frodsham household is still intact with Charles, Elizabeth(wife),Lily,James,Albert Ulundi and Elizabeth Frodsham(Jnr) all present and correct, and as we will see later,importantly,all still titled 'Frodsham'.Meanwhile in Farnham, our 1891 census return for the Goddard household(RG12/569/18),sees the son of 593 now aged 15 and employed in the capacity of 'Domestic Page Boy', possibly employed in the same establishment as his aunt, Mary Goddard, aged 27,who also works as a domestic servant.
The Goddards, and 593 jnr, at the time of the 1891 census are resident at 106 Upper Hale, Farnham, Charles Goddard is now aged 67,occupation 'bricklayer' and his wife, Harriet Goddard is now aged 61.Other children of the Goddards as listed on previous census returns have now 'flown the nest'. William Jones, 593 jnr's birthplace is misspelled as 'Dovver Barracks'. It is around this period that the lives of all a major characters in this story take turns of notable interest, because at some time between the 1891 and 1901 censuses, the Frodsham family and William Jones VC, move to Manchester . On the surface, at least, there is no apparent reason for this move. There must have been plenty of work available, at around this time, in Birmingham , more so than Manchester , so why move. There must have been some other factor at play other than work issues that made the Frodshams and William Jones VC decide to move northwards.
5.
It is also around the early 1890's,that William Jones VC pawned his Victoria Cross for an alleged ticket that yielded him the sum of £5.Under what circumstances did William Jones VC pawn his medal; was he of such a generous nature that the medal was pawned to feed and clothe the family that he had aquired, or was it simply the case of the fact that as he was unable to find regular work, which occurred as a result of his debilitated condition, a sufferer of rheumatism, where he needed the money to pay his way in life, until he was fit to work again.
In the spring of 1892,our now 61-year-old Harriet Goddard, wife of Charles Goddard dies in Farnham, Surrey.The 1901 census return (RG13/615/20) shows Charles Goddard, alone in the household, aged 77,resident at 119 Hale, Farnham, the only occupant at this address. Despite his advanced years he is still quoted as employed as a 'Bricklayer'. Perhaps it is when Harriet Goddard dies than an ageing Charles Goddard is no longer able to take care of his grandson, William Jones, 593 jnr, and with William's aunt, Mary Goddard, also gone, and resident in her place of work as a servant, it may be at this stage in the life of 593 jnr, that he may have been sent, or decided to go to live with relatives in Wales .
We now need to assess whether Charles Frodsham moved to Manchester with his family, stayed in Birmingham , or died. A search of the GRO death indexes from 1st quarter 1878 up until 4th quarter 1920 reveal 2 possible candidates for the death of an individual named 'Charles Frodsham'.
Our first possible individual is one 'Charles Frodsom' who died aged 50,in Chorlton, Manchester, 28th July 1891,wife-Emma Frodsom.This clearly isn't our man, the dates don't add-up, plus the name 'Frodsom' is a legitimate name with a good number of this families members residents of Chorlton around the time of this chaps death. The second death entry for 'Charles Frodsham' shows more promise.
This entry lists a 'Charles Frodsham' who died on 10th August 1919,5 Back 74 Snowhill, St Mary's, Birmingham , cause of death, Bronchitis.Charles Frodsham died alone with no family members present. He also died at the same ages as his brothers Thomas and Joseph Frodsham, who both died around the age of 74.The witness at the death of Charles Frodsham was a neighbour who lived nearby, a Mr C.Budd, who was born in Bristol . The cause of death is certified by Francis JJ Orton, and the Registrar on this occasion is W J Robinson. These details would indicate that this is our man, and this is the only feasible contender for the identity of the death of Charles Frodsham, that a search of the GRO indexes yields.
It can be debated at what stage exactly did the Frodshams and William Jones VC leave for Manchester , and under what circumstances. It would be of interest to compare the two temperaments of Charles Frodsham and William Jones and the only guide that we have is to imagine the more serious Northern humour to that of the more laid-back Bristolian temperament. It is also of interest to ponder at what stage did an extended relationship develop between William Jones VC and Elizabeth Frodsham, only common denominator being that of the Bristol connection. It could be that the Joneses and Walters previously knew each other through work or neighbourhood in Bristol , but there is no reference to state that William Jones VC visited Bristol after his discharge from The Army. Also pertinent, is the fact that Charles Frodsham remained and died in Birmingham , so there must have been a 'split' in the Frodsham household at some point and this may have been the reason to prompt Mrs Frodsham, children and lodger, to tear up their roots and move to Manchester .
6.
The place of sanctuary for the Frodsham family and William Jones VC, may have been the house of Elizabeth Frodsham's, now married daughter, Emily Goodwin, who was born 4th November 1868.Emily, despite that her birth certificate states that it was Charles Frodsham who was her natural father, would later be quoted as 'the daughter of 593 Pte William Jones VC' and it is ironic that this possible first port of call in Manchester, the Goodwin household, was the household that William Jones VC would die in. The move to Manchester may have been the start of a new life for the Frodsham's and William Jones, that would develop into a family-style relationship that would later include the marriage of Elizabeth Frodsham and William Jones .As William was a Wesleyan Methodist, a reasonably strict religion, and that he was a 'steady-plodding fellow' as stated on his service records, he may have grown close to Elizabeth and her family as a result of his lodger status in the household. The family and Jones may have been through a good deal of turmoil together and these trails would have created a natural bond between these individuals that would have formed the foundations for a later relationship.
The late marriage date of 16th July, 1901,at the Parish Church, St Augustine's, Newton Heath, Manchester, suggest, under normal circumstances around this period, a relationship that developed some time about the turn of the Century 1900.The advanced ages must also be taken into consideration because on the day of their marriage to each other, Elizabeth Frodsham was aged 51 and William Jones 61. The point of query that concerns the marriage is that Elizabeth Frodsham lists herself as 'widow' on the day of her marriage and this would imply that no contact with Charles Frodsham had been made for some length of time. The legal implications are of particular interest here and it could be possible that some 'presumed dead' rule applied relative to the status of Elizabeth 's previous husband, Charles Frodsham.
What is apparent, is that at some stage between the 1891 and 1901 censuses, the persons Elizabeth Frodsham, Albert Ulundi Frodsham and his sister Elizabeth Frodsham, all collectively, changed their names by a process known at that time as common deed, to the name of Jones. It is important to take into consideration, that before the year of 1927,that there was no legal, formal procedure of adoption available to an adult and child, and that 'fostering' as it was known at the time, was the only option available, before the start date of 1927.Fostering, was a 'private arrangement between the individuals concerned' and also worth a mention is that before 1903,name changes could be applied by 'any person' to 'any name of their choice' without the need to embark upon a formal process of name change. The only 'official' means of name-change available to an individual before the start date of 1903,when a less complicated means was commenced, was to change your name by invoking an Act of Parliament or by Royal Licence; a complex and costly procedure that was beyond the means of most ordinary working-class people.
Therefore, on a day-to-day basis, an individual was, and still is able to be known by any 'label', the term used to denote 'any' name used by an individual. The term 'label' could apply to a nick-name, for example, but when the individual is involved in any legal matters, especially pertinent to the documentation of birth, marriage and death certificates, they are legally bound to state their legally born first and surname. A good example of the correct application of this method, is that on a day-to-day basis, before Elizabeth Frodsham married William Jones she was known to acquaintances as 'Elizabeth Jones' and the use of this 'label' is depicted in the 1901 census returns, which were taken on the night of 31st March 1901.On the day of her marriage to William Jones, on 16th July 1901,Elizabeth correctly states her former name of 'Elizabeth Frodsham' to the registrar, for inclusion on her marriage certificate. She is by law,' legally Frodsham' later 'Jones' on this occassion. At the time of the 1901 census, prior to the marriage, an enumerator who knocked on the 'Jones' household would not ask for proof of identity, as this was not his main concern, the enumerator would have only been interested in facts and figures for his census returns. A further example of the application of legal correctness, is that the first four born girls, Emily, Louisa, Rosina and Lily Frodsham, all married under their born surname of Frodsham.
7.
Now that we have arrived at the year 1901,we must try and take a look at the whereabouts of the now 25-year-old William Jones, 593 jnr, after his departure from the Goddard household. Our man, on this occasion cannot be located anywhere via the 1901 census for England and Wales , so lets try and find out what may have happened to him. After he departed Farnham, 593 jnr may have gone to stay with relatives in Wales , or England . He could have alternatively, joined The Army and fought in the Boer War or WWI.There may have been attempts on 593 jnr's part to reconcile with his father in Manchester , around the time of the late 1800's - early 1900's.It is known that there were other members of the extended Jones family, other than William Jones VC, already resident in Manchester around this time.
They may have provided temporary accommodation for 593 jnr, whilst he established himself in the town, and attempted to form a relationship with his father. It seems that the attempts to become part of William Jones VC's life, on the part of his son, may have failed. The quest probably became fruitless and it may have been at this point that the relationship between father and son broke down completely and created a rift that opened up way back then that until this very day has never been healed. This would qualify why no descendants from this branch, the branch of 593 jnr, have ever turned up to bask in the glory of their VC awarded ancestor. It may have been that 593 jnr was absorbed or included into another family of Joneses, somewhere on the family tree. Or he may have simply made his own way in life. A testosterone-fuelled, 593 jnr, in his early- to-mid twenties may have been eager to find out from his father, why he had been left to stay with his grandparents in Farnham, whilst his father decided to remain a lodger with the Frodshams, for nearly 2 decades. It would be natural of any child to want to find out 'why' and to put his 'own house in order'.
Perhaps there was resentment on 593 jnr's part that he wasn't included in his father's new life, the current family that William Jones VC was now guardian of. On the failure of 593 jnr to reconcile with his father, he may have decided for once and for all, to cut his ties with William Jones Snr and let him get on with the business of his family life. 593 jnr may have assumed a nickname of some sort to disassociate himself from his name-like father, being known by some other first name to conceal his identity. The name 'William Jones' may have brought back painful memories for him; a name-change would have soothed the pain. It would be of extreme interest to wonder if 593 jnr attended his father's funeral in Manchester or just read the report, of the occassion, in the local newspaper. What may have happened is that the subsequent generations of descendants of 593 jnr, may have had the truth about their VC awarded ancestor concealed from them, with only those who 593 jnr could trust implicitly being told the truth. This denial, over the generations would hammer the gap further between descendants of William Jones VC and his son 593 jnr.
Such was the special relationship that formed between William Jones VC and his new family, that Albert Ulundi Frodsham, later Jones, would list his father as 'William Jones VC, pensioner', on his marriage certificate, and father a son, also called Albert Ulundi Jones, born 1904.Albert Ulundi Frodsham would die under the name Albert Ulundi Jones. Elizabeth Frodsham, born 1883,later Jones, would use her 'Jones' name when she married and became Barlow. Elizabeth Barlow, as a lady in her early eighties, would carry out work of the highest calibre on behalf of William Jones VC when she toured Lancashire and Yorkshire to promote the film Zulu; she was guest of honour at the film's premier in Manchester . Also worth a mention is the work carried out by a descendant of Emily Goodwin's to replace the vandalized urn that rested on William Jones VC's grave.
8.
It would be of interest to ascertain just why Charles and Elizabeth gave their son Albert Frodsham the middle name of 'Ulundi'. Neither 593 Pte William Jones nor Charles Frodsham was present at this battle. One possible reason is that the normal Jones saturnine sense of humour, was underwritten in William Jones VC by a dramatic element that would later see our steady-plodder appear on stage in Buffalo Bill's Wild-West Show, and perhaps Jones was able to narrate the tales of his actions in South Africa with such precision that he impressed the Frodshams enough so that they gave their last-born son this unique middle-name. Another simile is that the writers of this article have found one Edward ' Durban ' Jones on the GRO birth indexes in their searches, this child being born to Edward and Phoebe Margaret Jones (formerly Jones) on 18th November 1899, registered in Denbigh, North Wales . Could the reason that this child had been given the middle name ' Durban ' also suggest a link with South Africa , and that there was a minor trend at work throughout the Anglo-Zulu War period, where children born around this time were given middle names of battles and places associated with these campaigns?
As the collective dusts of time blow over the decades and the memories of our VC awarded hero, what legacy remains of 593 Private William Jones VC? The house where he died, the house of Emily Goodwin, was demolished in a re-development scheme in the 1950's to make way for what is a car park behind the Apollo Theatre in Manchester . The users of the car park may have no idea who died there, or the pain that William Jones VC suffered in his later years, especially at the time he died. A subscription grave, a grave shared with others rests in Philip's Park cemetery in Manchester , a grave that was moved some 30 yards further inward some time ago to accommodate a road-widening scheme near the gas works. Although the grave is well-tended and the stone had the letters 'VC' added to it in the 1980's,it lies in a section shared with paupers and other unmarked graves, one of which belongs to Jones's fellow Rorke's Drift defender, Joshua Lodge, whose grave lies 20 yards to the left of William Jones's. On first impression, the section that William Jones VC is buried in could be overlooked, as the graves are not apparent unless you know where to go.
And what of 593's genetic legacy, is there only the Frodsham-come-Joneses to carry the banner for this man. Where are the descendants of the marriage between William Jones and Elizabeth Goddard? Does the high-forehead, porcelain-like skin and moon-like glow to the features no longer exist, along with such intangible qualities as bravery and to rescue people from buildings that are on fire, or are they lost forever bar a few medals and photos. This isn't the end of this story; in fact, it only forms the start of yet further enquiries into these matters. The writers urge you to look at the census returns, birth, marriage and death certificates of all the individuals concerned with this story. The jury is still out and the verdict open. We thank those who have helped us in our quest for the truth, they are richer people for this aid and you will see their names mentioned below.
The best tribute of all to 593 Private William Jones VC would be for all his descendants, whatever their form to unite together and function as a collective. This should be a time for celebration and re-union. This story has a long way to go before its conclusion has been reached. The next part of the story starts here...Watch this space.
SEE FAMILY TREES OF 'JONES' AND 'FRODSHAM'
Copyright and First British Serial Rights: Tony Jones and Graham Mason (593.5 Jones and Sapper Graham).
Research in South Africa conducted by Rosemary Dixon Smith-Natal Ancestry Research.
Special Thanks to: Gerald and Helen Heath-Vale of Evesham Historical Society.
Alan and Sue Gosling and Sandy - Purfleet Military and Heritage Centre.
Jocelyn and John Griffiths-Thomas James Jones Information.
Mr. Sid Riley - Gorton Historian.
593 Private William Jones VC and all his fellow 'Rorke's Drift Men.'
E-mail your views to: [email protected]
For any claims of Lineage from 593 Pte William Jones VC, claimants are welcome to contact the authors for guidance, as the 'Jones Y Genome' has been charted and is available for comparison and verification, by any individuals that claim descendancy.
Contact us at [email protected] for further details.
Tony Jones (his face in place of William's)