A Guided Tour
We started our journey to South Africa from London Heathrow with South African Airways on B747-300, the journey though ten and a half hours soon passed. we arrived in Johannesburg to be met by our South African guide Mrs Ria Davids,who then took us to the beautiful Lennox Cottage just outside Dundee, it is owned and run by Dirk Froneman a former Springbock rugger international and his lovely wife Salome, that evening we met our guide for the battle fields Pat Rundgren a former commissioner in what is now Zimbabwe.
Next morning after a early and delightful breakfast we set off for Isandlwana it was quite a big event for both my wife and myself to visit a battlefield we had wanted to visit for so long. it was a beautiful day with the temp approaching the mid seventies, we arrived at Isandlwana and for both of us it was the thrill of a lifetime, we spent around three hours here then we called in at the lovely Isandlwana Lodge for a tea break the view of the battle field from here was fantastic, we then moved to Rorkes Drift like Isandlwana it has not changed a great deal over the years the buildings having been rebuilt almost as they where at the time of the battle it has a very if small museum, we took our time having a good look around and going over the battle with our guide Pat,it was absolutely fabulous,we then retired for dinner in the small restaurant run by the church for our mid day meal, then we had the unbelievable experience of seeing a Zulu reinactment and dances the Zulu are a very friendly people and greeted us warmly, all too soon it was time to leave and make our way to Fugitives Drift where we saw the graves of Lt Melvill and Lt Coghill it is quite a climb too.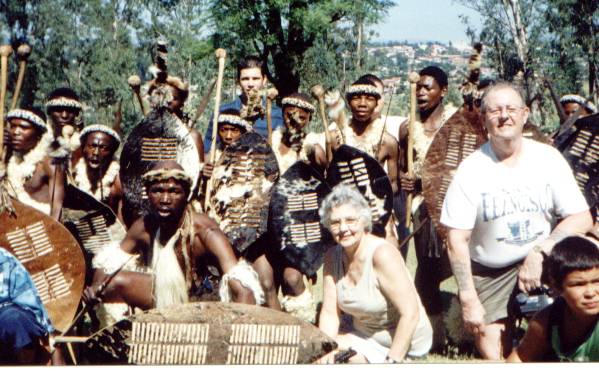 We took photographs of the graves and the point on the Buffalo river where their brave attempt came to an end, by now the sun was getting low in the west so reluctantly we made our way back to Lennox Cottage.I found it a amazing and unforgettable experience on we shall never forget , in fact we are considering returning later this year.
South Africa is a beautiful country full of history and we found it amazing how far the Zulu children walk to school, a tip for anyone making the trip - take along a few sweets - they are really appreciated!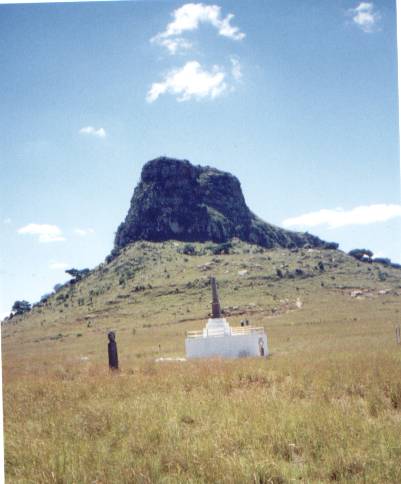 Clive Dickens