Died of typhoid at Camp Dabhaura, Allahabad, India on 9th. February 1892.

Directions to Memorial
He is buried in the New Cantonment Cemetery in Allahabad, Plot B-1, grave 66. There is a plaque and his name on the colour pole in Brecon Cathedral. Details of how to get there...
Very rough location can be found on Google Earth at:

Why was he awarded the
Victoria Cross?
Aged 33, he was second in command of the post, under Chard, showing great gallantry throughout the defence.

Click here to find out more about his
distinguished family history...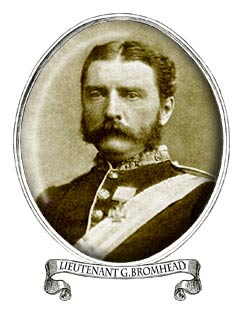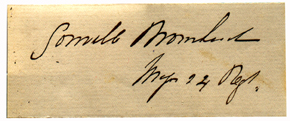 Signature of Gonville Bromhead, from the collection of Edward.T. Garcia


Further Information
Gonville Bromhead came from a well-known military family. The family home was in Thurlby Hall, Newark. Born at Versailles in August 1845. Gonville Bromhead purchased his commission as an Ensign (2nd Lieutenant) on 20th April 1867. However, he would not attain the rank of Lieutenant until 28th October 1871, a rank which John Chard had held since 15th July 1868. Making Bromhead the junior officer at Rorke's Drift by three years and three months. He was aged 33 at the time of Rorke's Drift. Following the defence he was appointed a brevet Major.


Click here to view his plaque in Brecon...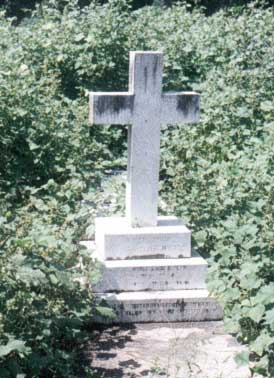 Click on the grave inscription to zoom in, or click here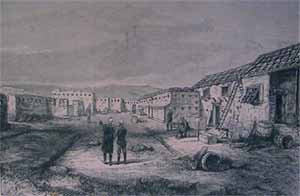 'Fort Bromhead' as Rorke's Drift was known after the battle
Image supplied by John Young
He received his VC from Sir Garnet Wolseley at Utrecht on 22 August 1879. He later served in India and the Burma campaign. He attended two successful courses at School of Musketry, Hythe. He died, unmarried at Allahabad in February 1892. (His VC is in the SWB Museum Collection).

Further Information supplied by the South Wales Borderers Museum, Brecon.