Why was he awarded the Victoria Cross?
Under heavy fire, he attended both the wounded and brought ammunition to the hospital defenders. He was 34 at the time of the defence.

Read Surgeon Reynolds account of the Battle

Further Information
James Henry Reynolds was born in Dublin on February 3rd 1844. Educated at Castleknock School, Dublin, he obtained his Bachelor of Medicine and Bachelor of Surgery from Trinity College, Dublin in 1867, before joining the Army Medical Department in March 1868. He served with the 36th Foot in India during 1869-1870 but was invalided home after a serious outbreak of cholera hit the regiment.
He arrived in South Africa in August 1874 and later accompanied the 1/24th on the minor expedition to the Diamond Fields in 1875. He served alongside both the 1/24th and 88th Regiments during the Eastern Frontier Campaigns of 1877-1878, and was present at the action around Mpetu in January 1878. By the 22nd January 1879, he found himself in charge of the field hospital at Rorke's Drift, where he remained looking after the sick for some weeks afterwards. After the action, he was promoted to Surgeon-Major and was present in the British camp at Fort Nolela for the final battle at Ulundi in July 1879. He received the V.C. from Colonel R. T. Glyn, C.B., during a special parade of the 1/24th at Pinetown Camp, outside Durban on Tuesday 26th August 1879.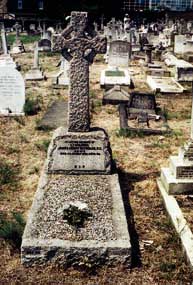 Click on the grave inscription to zoom in, or click here