Cpl. Christian Ferdinand Schiess (Natal Native Contingent).


He was born on 7 April 1856, Burgdorf, Bern Canton, Switzerland. His place of origin was Herisau, Canton Appenzall Ausserrhoden. He died in poverty on board 'Serapis' on route to England, his passage being paid for by public subscription. He was unable to find employment in South Africa, even from the British authorities, and it was said of him later that had he mentioned that he had been involved at Rorke's Drift, and had indeed won a Victoria Cross, then the men he knew may well have had a different attitude to him - Still, it was too late then.

Directions to Memorial
Buried at sea off the coast of Angola having died on 14th. December 1884 en route to England.
There were some reports of him being spoken to in Allahabad, India by a Capt. Penn-Symons in November 1891. However, the recorded details of the location of his burial at sea, 13°00S/07°24W 1,376Km. N.E. of Helena suggest a more accurate account of his death.
Rough location can be found on Google Earth at: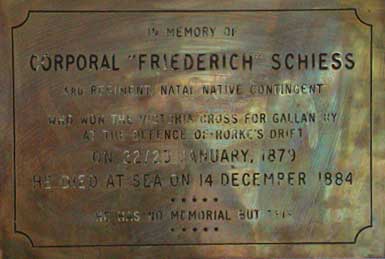 Plaque on display at Rorke's Drift Museum, Natal, South Africa
Front of VC Medal

Kindly supplied by Rafael von Waldburg Zeil

Rear of VC Medal

Kindly supplied by Rafael von Waldburg Zeil
Please click here to zoom in to the back of the medal to view the inscription...