The Noble 24th.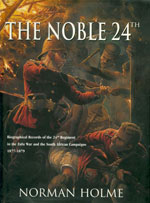 A comprehensive amount of biographical details relating to the 24th. Regiment in the Anglo-Zulu War and the South African campaigns 1877-1879.
Review by Dawn Grant
This book is more of a reference book than a textbook but is an essential book for those wishing to undertake a serious study of the Anglo-Zulu War. The result of 35 years of research, it is, in effect, a roll call for men who made up the 1st and 2nd battalions of the 24th Regiment during the South African Campaigns. The book is divided into two sections: The Battle of Isandlwana and the Defence of Rorkes Drift. Each section opens with testimonies from men who took part in both these actions, thereby providing the background to the lists of men that follow. The research is based on official documentation such as Medal Rolls, Muster Rolls, Pay Lists and, where possible, records of service. The result is the definitive reference book on all those that participated in this campaign from the commanding officer down to the ordinary foot soldier. It ends debate on who was or was not present at the defence of Rorkes Drift.
The entries are listed in alphabetical order by last name and lists service number, rank, date of birth, service record and any biographical details that are known. Lists are cross-referenced, where applicable, to the roll of officers and other ranks killed in action. 
This is one to keep at hand when involved in an in-depth study of the events of on 22 January 1879.