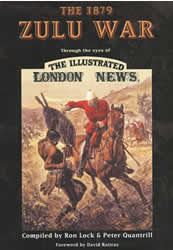 'The Zulu War Through the eyes of 'The Illustrated LONDON NEWS'
A new book compiled by Ron Lock and Peter Quantrill, co-authors of 'Zulu Victory: the Epic of Isandlwana and the Cover-Up', is now available in hard cover with colour jacket. It contains original reports and illustrations of the 1879 Zulu War from 'The Illustrated LONDON NEWS', with a foreward by David Rattray of Fugitives' Drift. The book contains over 300 pages with 200 dramatic black and white illustrations. A fascinating insight to the view of the War through the Victorian illustrated press. Destined to become a collectors item.
___________________________________________________________________________
In these days of satellites and instant messaging, not to mention the internet, it is hard to imagine a time when news came via letters and official postings that would take weeks to arrive at newspaper offices. The Illustrated London News provides a snapshot of the Zulu War as the readers in the home country would have read it, often many weeks after the event transpired. Yet it retains a certain quaintness and tidbits of information that would not appear in modern day publications relating to the Zulu War.
The commencement of the Zulu War is announced in the Illustrated London News on 8 February and it is at this date that the entries start. The "British Reverse" is brought the country's attention on 15 February. While it follows the events of the Zulu War as they happens, it usually begins with a short report, followed a few days later by a much more detailed report as facts were obtained. The book is richly illustrated throughout with sketches provided by not only their "special artist" Mr Melton Prior but officers taking part in the conflict such as Lt Ussher, Lt-Colonel Crealock and Sub-Lt Smith-Dorrien.
The articles feature what Victorians would have been interested in at the time: the bravery of the officers and men, the difficulties of the campaign, the nature of the 'enemy' and even the cost and wastefulness of the war. Many entries are dedicated to the death of the Prince Imperial as well as the capture and subsequent travels of Cethswayo.
It makes for an enlightening reading and certainly provides the reader with an insight into the norms of the Victorian era.
Dawn Grant - March 2007